15th ANNUAL EARLY HEARING DETECTION & INTERVENTION MEETING
March 13-15, 2016 • San Diego, CA
Exhibits and Sponsorships
The EHDI Annual Meeting organizers and Planning Committee would like to recognize and thank the following organizations for their sponsorship contributions to the 2016 EHDI Annual Meeting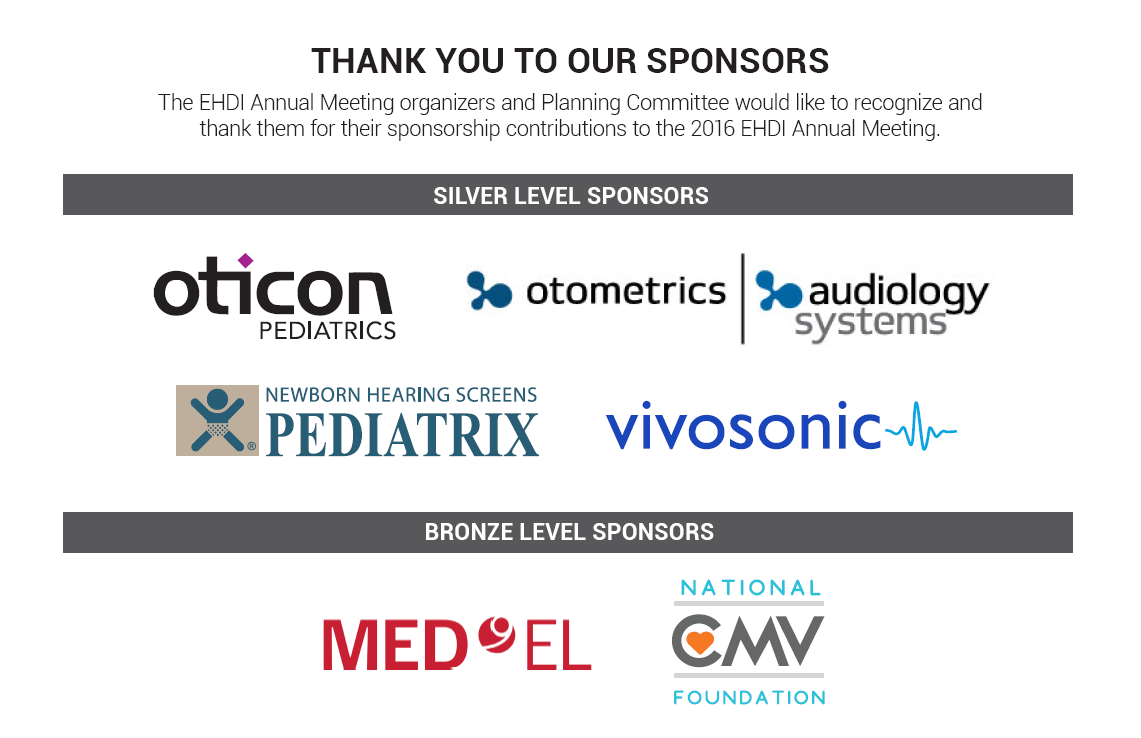 Exhibitor and Sponsor Registration:
Download the registration form (PDF Format)

Fax to:
435-797-0636

Mail to:
EHDI 2016
USU Conference Services
Utah State University
5005 Old Main Hill
Logan, UT 84322-5005
Sponsorship and Advertising Opportunities
To discover the opportunities and benefits of Sponsorship click here to view the sponsorship and advertising packet (program book advertising details on last page). Please note you do not need to be a sponsor to advertise in the program book.
The organizers of the 2016 Early Hearing Detection and Intervention (EHDI) Annual Meeting invite you to become a supporter of the nation's premier educational and networking event for EHDI professionals through sponsorship.
We anticipate 1,000 attendees will participate in the 2016 Meeting in San Diego, and we hope you will join!
Early commitments maximize recognition, so please submit your application as soon as possible. Please contact us with any questions regarding sponsorship or with other ways you may be interested in sponsoring.
Please feel free to contact Sara Doutre ehdi.exhibitors@usu.edu or Casey Judd casey.judd@conferencedirect.com with any questions about sponsorship opportunities or to secure your sponsorship.
Exhibits
View the Exhibit Hall Layout
Exhibit List

GES Exhibit Services (internet, electrical, shipping, etc- please contact GES directly with questions on these items).
Exhibitor Deadlines
In order to be listed in the printed program:
Exhibitor Registration must be in by December 18, 2015

Final Deadline Dates:
Exhibitor Registration Deadline: February 1, 2016
Make Hotel Reservations by: February 15, 2016
Exhibit Schedule
*The exhibit hall will open Sunday evening to coincide with the opening reception of the 2016 EHDI Annual Meeting which will be held in the exhibit area. Also, in order to increase traffic throughout the meeting, continental breakfasts and AM/PM breaks will be served in the exhibit hall on Monday and Tuesday.
Exhibitor Check In & Set Up
Sunday, March 13, 12:00 - 6:00 pm
Exhibitor Hours
Sunday, March 13, 6:00 - 8:00 pm
Monday, March 14, 7:15 am - 5:30 pm
Tuesday, March 15, 7:15 am - 11:00 am
Exhibitor Dismantle
Tuesday, March 15, 11:00 am - 1:30 pm
Exhibit Hall Location & Layout
The host hotel is the Town & Country Hotel & Convention Center, San Diego, CA. All meeting sessions, meals, exhibits and posters will be held in this hotel. For hotel information and to make reservations click here.
Exhibitors may request a specific booth, but meeting management reserves the right to assign exhibitors to booths as they deem most appropriate. Exhibitors may specify on the registration form any exhibitors they do not wish to be near. All decisions of show management will be final.
Exhibit Registration Fees
| | |
| --- | --- |
| $1,250 | Exhibitor |
| $325 | Non Profit Exhibitor |
Exhibit Registration Fees Include
One 8' x 10' booth space including:

8' high back drape & 3' high draped side rails (Color Black)
(1) skirted table (Color Black)
(2) chairs
(1) wastebasket
(1) ID sign stating company name and booth number

One exhibitor representative allowed to attend the meeting sessions
*Additional exhibitor representatives wanting to attend the meeting sessions MUST register for the meeting at $325 per person.
Sunday Reception, Breakfast and AM/PM break snacks on Mon and Tues
*Additional exhibitor representatives NOT attending the meeting must register as additional exhibitors ($50 each).
Company listing on the meeting website and printed in the meeting handouts.
CANCELLATION & REFUND POLICY
Refunds will be made to those registrants who must cancel, less a $75 processing fee. Written cancellation requests must be postmarked on or before February 8, 2016. No refunds will be made after that date. Substitutions are welcome with no processing fee if the same payment method is used. Utah State University reserves the right to cancel this event or portions thereof due to insufficient enrollment and limits liability to registration refunds only.
SPECIAL NEEDS
Notice of any special needs must be provided by February 1, 2016 in order to be accommodated.
Note: ASL Interpreter and CART services ARE NOT provided at exhibit booths. Please make your own arrangements if you will need these services at your booth. Service provider referrals are available by request.
Exhibit Management Contact
If you have any questions regarding registration or setup, please contact:
Casey Judd
Phone: (435) 213-9454
casey.judd@conferencedirect.com