Things To Do
Jacksonville, known as the "River City by the Sea" has plenty to offer the 2014 EHDI Annual Meeting participants! The information and links below provide useful information to help you get the most of your stay in Jacksonville during the meeting. Jacksonville boasts over 20 miles of wide and un-crowded beaches, close to 40 miles of the tranquil Intracoastal Waterway canal and the longest stretch of the beautiful St. Johns River, with so much water Jacksonville is a boater's dream-come-true! Back on land, Jacksonville is home to the largest urban park system in the nation, with 10 state and national parks ready to be explored. The authentic cuisine, thriving craft-beer scene and fun and cosmopolitan nightlife stretching from the beautiful Beaches all the way to our historic neighborhoods make Jacksonville a unique destination with thousands of possibilities for an unforgettable "Only in Jax" experience.
Two very noticeable Jacksonville icons you will see right away are the Acosta Bridge (blue and neon blue at night) and Friendship Fountain.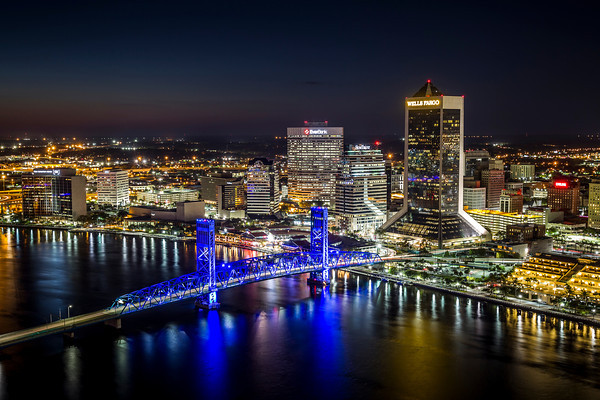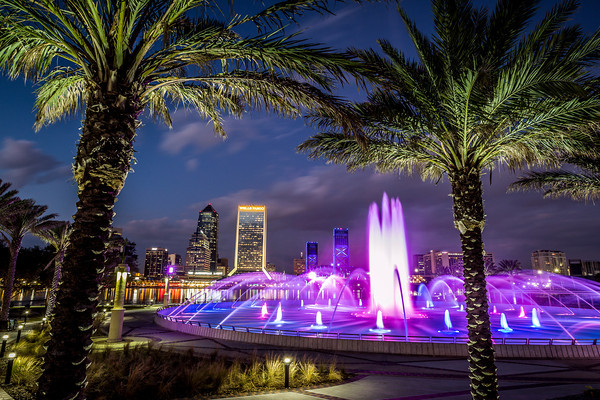 [Night falls over Downtown Jacksonville and the light show begins at Friendship Fountain. Credit: Ryan Ketterman.]
Jacksonville Landing
Next door and within easy walking distance to the Hyatt Regency Jacksonville Riverfront is the Jacksonville Landing with dining and shopping. www.jacksonvillelanding.com.
The Jacksonville Landing celebrated its 25th birthday in 2012. Nestled along the gorgeous St. Johns River in Downtown Jacksonville, The Jacksonville Landing is the place to go for shopping, dining and partying in downtown Jacksonville.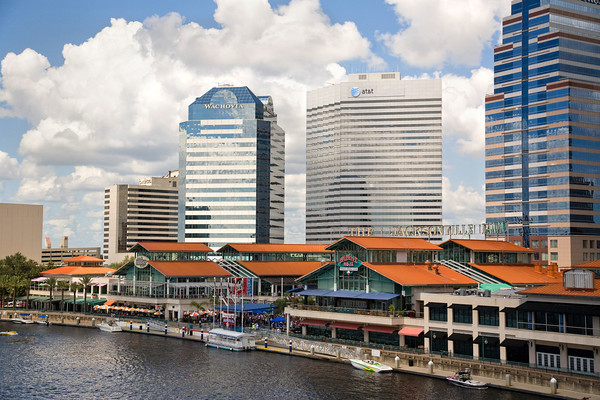 [Downtown Jacksonville Riverfront, meet by the water in hotels like the Hyatt, Omni or Crowne Plaza.]
Dining
Jacksonville's dining scene is an eclectic hybrid of inspired casual elegance and classic southern comfort, infused with the flavors of the coast and a dash of international flair.
RESTAURANTS AT THE HYATT
Trellises Restaurant - Serving breakfast, lunch and dinner in a casual atmosphere with an emphasis on fresh regional favorites
Jaxx Sports Bar - Catch all the sports on four big-screen TVs while enjoying light fare and a great selection of beer, wine and spirits
Currents Lounge - A favorite meeting place for cocktails and conversation; a purveyor of Starbucks and breakfast items to go in the morning; providing complimentary wireless Internet access
Einstein Bros. Bagels - Grab-and-go shop featuring the famed "Bagel and Schmear," sandwiches, salads, smoothies, coffee, drinks and more
RESTAURANTS NEARBY
*To see a listing of all restaurants nearby the hotel click here
Transportation to local restaurants and attractions
Most of the Riverwalk area is accessible within easy walking distance of the hotel- even crossing the famous blue bridge. Water taxis are also a fun and unique way to get across the river to attractions on the other side!
Jacksonville Water Taxi
This company runs continual taxi service along designated routes with fixed landings like a water bus system. Boats operate on a counterclockwise rotation with pickups every 20 to 25 minutes. A transfer might be required to reach your final destination.
Water Taxi Stops:
Stop 1: The Landing
Stop 2: Friendship Fountain Park
Stop 3: Crowne Plaza Jacksonville-Riverfront Hotel
Stop 4: Chart House Restaurant
Stop 5: Metropolitan Park Marina
Regular Tickets:
$3.00 Adult One Way / $6.00 Roundtrip
$2.00 Children (3-10 Years Old) / $4.00 Roundtrip
$2.00 Senior Citizens (65+) / $4.00 Roundtrip
FREE Infants (2 Years and Under)
For Special Event Tickets, see website for details
Hours of Operation:
Sunday-Thursday: 11am to 9pm
Friday-Saturday: 11am to 11pm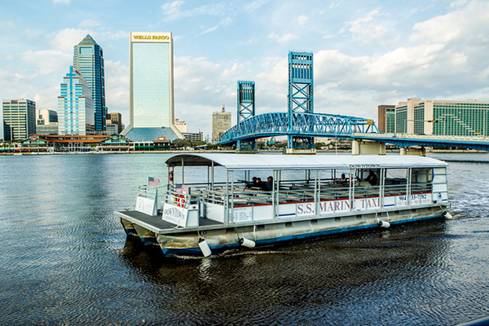 The Downtown Jacksonville skyline and the water taxi,
a popular way to get across the St. Johns River
in Downtown Jacksonville.
[Credit: Ryan Ketterman.]







Things to Do - www.visitjacksonville.com/things-to-do/
Beaches
Sightseeing
Museums
Sporting Events
http://www.jaxevents.com/events-calendar/?venue=&eventtype=&x=39&y=16&month=04&yr=2014
Shopping
Zoological Park